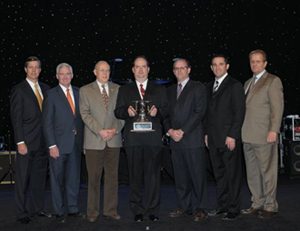 The Constructors Association of Western Pennsylvania was recognized during Associated General Contractors of America"s (AGC) 92nd Annual Convention in Las Vegas, Nevada. The Association was awarded the 2010 Chapter of the Year for its outstanding membership service in the areas of labor relations, workforce development, environmental regulatory issues and involvement in the local community.
"CAWP has provided vital support for thousands of hard working construction contractors," said Ted Aadland, the association"s president and the CEO of Portland, Oregon-based Aadland Evans Constructors, Inc. "Without their tireless efforts, it is hard to imagine where our industry would be today."
Constructors Association of Western Pennsylvania took "Small Chapter of the Year" for its outstanding workforce development initiatives, diesel retrofit program, promotion of joint training among the union apprenticeship programs, and its work in the community, including the CAWP Constructing Our Community Program, which provided over $25,000 in financial support to the Wounded Warriors Program as a token of gratitude to the brave men and women who were injured fighting to keep America safe.
Aadland noted that CAWP had also found new and effective ways to communicate with its members, issuing e-newsletters and keeping its member companies up to date on local business and political developments. He added that the chapter distinguished itself for its ability to advocate on behalf of the construction community.