Golden Triangle Construction views job safety as a MORAL IMPERATIVE as well as a legal requirement. Our safety program has been extremely successful over the years. Our expectation is to provide a world-class standard which others will compare themselves to. "Safety First" is an ingrained way of working at Golden Triangle Construction.
SAFETY FIRST
Golden Triangle Construction's Pennsylvania State Safety Rating has averaged .5 over the last ten years
Golden Triangle Construction has Automated External Defibrillators (AEDs) on each job
GTC internal safety committee recommends various initiatives to improve job site safety well ABOVE OSHA standards
This Safety Committee has mobilized a comprehensive safety program designed to identify and correct potential hazards before an accident happens
All Golden Triangle Construction project managers, superintendents, and foremen have received:
OSHA 10 hour Training
Certification in First Aid and CPR
Competent person for trenching and shoring
Achieving a Strong Safety Culture:
Training at all levels
Annual safety incentive program to inspire workplace excellence
Establish responsibility and accountability
Prevent accidents, thereby controlling losses
Over two decades of various awards from the AGC, CAWP, and PA Safety Committee for our commitment to safety and zero incident rates within the hours of work maintained.
WEEKLY SAFETY PHOTO CHALLENGE
This program is offered to our Foreman and above who represent our projects working safely and highlight the high quality of work we perform. Each week a new picture will be featured on our social media pages, the news section of our website, and here (above) on this page.
Week 15-16
Submitter: Dave Muchisko III
Date of Photo: 06/28/2023
Project: I-70 @ PA 51 Interchange Project
Location: I-70 EB
Task: Setting barrier wall prior to traffic switch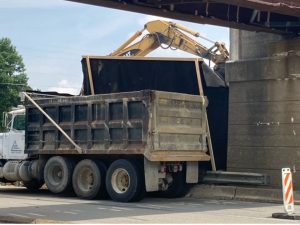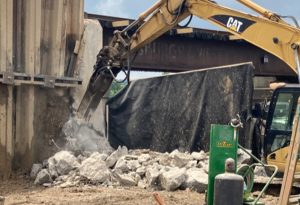 Submitter: Vince Kocuba
Date of Photo: 07/07/2023
Project: 2203 – I-70 @ PA 51 Interchange Project
Location: Rt. 51 at RR abutment
Task: Shoring operation on abutment demo