WHAT IS ROLLER COMPACTED CONCRETE?
Roller Compacted Concrete (RCC) is an ultra-tough, no-slump concrete that is placed with conventional or high-density paving equipment and usually finished with double-drum rollers. RCC is a perfect marriage of strength, durability, and light reflectivity. It's constructed without the joints, forms, dowels or steel reinforcing which is typically needed with conventional concrete, making it a strong, fast and economical solution.
RCC got its start in the logging industry back in the 1970s, when the industry was looking for a paving material that could stand up to massive loads and specialized equipment – but still be constructed quickly and economically.
UNIQUE PROCESS
RCC has a similar ingredient make-up as conventional concrete: water, cement and aggregates such as gravel and crushed stone, but has a drier mix that helps it be compacted by rollers. RCC is typically produced in continuous-mixing pugmills, portable RCC mixers or central mix plants. After it's mixed, dump trucks are used to transport it to an asphalt paver. The mix is then placed in layers (or lifts) up to 10 inches thick.
Compaction with the rollers takes place after placement, until the pavement meets the density requirements of the project. Compaction is the most important step in RCC construction because it provides density, strength, smoothness and surface texture.
IDEAL APPLICATIONS
RCC is ideal for industrial or heavy-duty pavement, wherever strength and durability are of high concern, such as:
Ports
Intermodal
Military facilities
Parking lots
Designers may also wish to take advantage of "composite" pavement designs for residential street projects. In such an application, RCC is used as the pavement base, and asphalt for the pavement surface.
BENEFITS OF RCC
Durability/Strength: Because of RCC's high flexural strength (500 to 1,000 psi), it's able to support heavy-duty, repetitive loads. Its high compressive strength (4,000 to 10,000 psi) allows RCC to withstand high concentrated loads and impacts, while its high shear strength eliminates rutting and subsequent repairs. In addition, the high density and low absorption of RCC provides excellent durability even under freeze-thaw conditions and eliminates seepage through pavement.
Low Initial Cost/Maintenance Cost: RCC is very competitive compared to alternative pavement options on a first-cost basis. The high strength of RCC pavements eliminates common and costly problems traditionally associated with asphalt pavements. Problems such as rutting, deforming under heavy, concentrated loads, deteriorating from spills of fuels and hydraulic fluids, and softening under high temperatures are not issues when using RCC pavements – saving on maintenance costs.
Ease of Application: RCC has a simplified construction process because steel reinforcing or dowels aren't needed. RCC provides the ability to pave an area with the strength of concrete, but with the simplicity and speed of asphalt.
Quick Placement and Turnaround Time: Without forms or finishing necessary for placement, along with minimal labor, RCC can be placed quickly.
In addition, RCC can be placed early and can easily handle the abuse from construction equipment and truck traffic (which cause most of the severe damage to residential streets). With residential street re-construction, another big advantage of RCC is the ability to speed up the project and reduce the inconvenience to local residents. Residents can usually drive on RCC the same day it is constructed.
View our latest Roller Compacted Concrete Project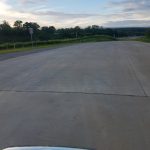 US119: Coline-Crossover Road
Posted on June 17, 2020
Project: US119: Coline-Crossover Road
Owner: Pennsylvania Department of Transportation
Value: $37 million
Scope: Roller Compacted Concrete was utilized to construct a commercial vehicle inspection area for the Pennsylvania State Police along SR 119 in Westmoreland County. The PSP requested a smooth surface from PennDOT to perform inspections on and Golden Triangle proposed using Roller Compacted Concrete in place of asphalt. An 8" thick lift of RCC was placed using a high-density paver followed by a 10 ton double drum roller. Final finish was achieved by using a double blade ride on power trowel operated directly behind the roller, followed by a light broom texturing. After completion, the PSP was provided a 3 lane, 1,800 SY inspection area that is sure to stand the test of time.