Golden Triangle currently owns 5 mobile concrete plants and high production paving equipment that are each capable of producing up to 3,000 cubic yards of concrete per day.
In addition, a number of smaller machines are utilized for shoulders, curbs, barrier, and bridge parapets
Pouring over 300,000 square yards of concrete per year Golden Triangle Construction continues to pave the way with innovative concrete solutions. Golden Triangle has the capability to Design and construct pervious concrete pavement. This is an excellent solution for the most efficient use of land development. Pervious concrete is a solution for drainage which reduces the amount of land needed for sediment ponds. Concrete Material Design Services are available to meet the needs of our clients.
View our latest Concrete Project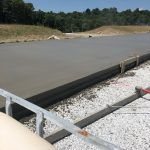 SR576 Sections B, C1-1, &C1-2
Posted on May 22, 2018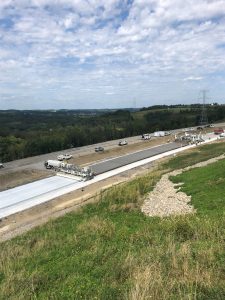 Owner: Pennsylvania Turnpike Commission
Value: 53 million
Completion: 2019
Scope of Project: As a subcontractor, Golden Triangle will be placing over 265,000 SY of concrete roadway pavement and cement treated permeable base course for the new SR576 toll road between SR22 and I79.