Due to a wide range of experience, Golden Triangle Construction is very successful in the realm of asphalt paving. Our experienced crews and commitment to providing quality work allows us to supply top quality asphalt paving work.
Golden Triangle Construction has successfully completed asphalt projects in a variety of environments, including interstate highways and roadways. We are capable of providing asphalt paving, milling, quality control, and testing services for base, concrete, and asphalt
View our latest Asphalt Project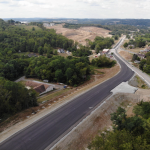 SR 519 at SR 980 and I-79
Posted on June 3, 2020
Owner: Pennsylvania Department of Transportation
Value: 27 Million
Completion: November 2020
Scope of Project: This project involved reconstruction and safety improvements to SR519, SR980, SR19 (SB) entrance and exit ramps, I79 (NB) entrance and exit ramps, and I79 (SB) entrance and exit ramps.