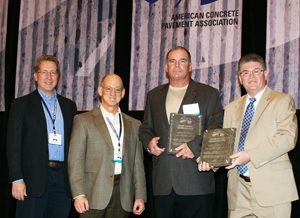 Lifetime Pavement Recognition Award – Awarded annually since 1994, the award is presented to the agency owner of an in-service concrete pavement that has demonstrated exceptional performance and service to its local community, state, and users. (This recognition rotates annually between public market segments: highway, street and airport. The 2010 award is presented for a highway pavement.)
For 2010, the ACPA Lifetime Pavement Recognition award is presented to the Pennsylvania Department of Transportation and Golden Triangle Construction, Company for Interstate 79 in Pittsburgh, Pennsylvania. This Interstate highway section has demonstrated outstanding performance in providing more than 20 years of zero-maintenance service to road users, citizens and taxpayers of Pennsylvania. The concrete pavement has stood the test of time and is a testament to the durability and longevity of concrete and the importance of quality construction and design .
About the ACPA
The American Concrete Pavement Association is the national trade association for the concrete pavement industry. The primary mission of the ACPA is to create and maintain a strong national presence through dynamic, strategic leadership; effective technical expertise and resources; and persuasive advocacy on behalf of the concrete pavement industry.
Founded in 1963, the American Concrete Pavement Association is headquartered in Chicago at 9450 Bryn Mawr Ave., Suite 150, Rosemont, IL 60018. Phone: 847.966.2272. The Association's Washington, DC office is located at 500 New Jersey Ave., NW , 7th Floor, Washington, DC 20001. Phone: 202.638.2272. Visit our technical website at www.acpa.org. Visit our public website at www.pavements4life.com.