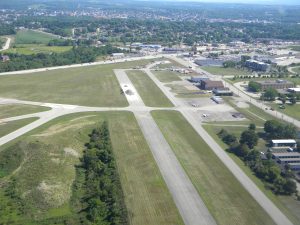 17,447 tons of asphalt has been placed to date!
Golden Triangle crews have been working hard at the Westmoreland County Airport!
The project included the widening of runway 6/24 from 100 to 150 feet, 25 feet on each side of the runway, with over 40,000 CY of excavation, 17,000 LF of underdrain, 90,000 tons of aggregate subbase, and 19,000 tons of asphalt. . In addition, 1000 feet of the Runaway was overlaid with 3 inches of asphalt where permanent light fixtures were installed. The work occurs during nightly closures of the Runway.