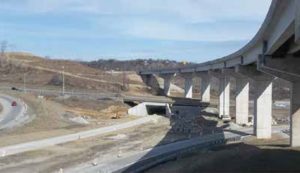 Slag Cement Association 2015 Project of the Year Awards:
Innovative Applications
I-79/I-70 South Junction
The I-79/I-70 South Junction Interchange Improvement Project in South Strabane Township, Washington County, PA, eliminated a severely curved connector ramp and replaced it with a large nine-span flyover bridge and new ramp system. The existing curved ramp had been the site of numerous accidents.
To improve safety, an innovative box culvert redesign alternative to the "as-designed" rehabilitation of the two mainline bridges carrying I-70 over the ramp to I-79 South eliminated the requirement for mainline crossovers on a curve during reconstruction. This innovative alternative solution not only enhanced construction efficiency but it also improved traffic flow and safety during construction and simplified future planned mainline reconstruction of I-70.
Innovative design and construction solutions were complemented by use of slag cement at a 50% replacement level in both self-consolidating concrete (SCC) and mass concrete mixtures. SCC was used for drilled shafts, while mass concrete was defined as any concrete element with a minimum dimension of 6 ft (1.8 m) or greater, including drilled shafts and pier caps. The 50% slag cement mass concrete mixture aided in meeting the thermal control plan for mass concrete placements and allowed discontinuing temperature monitoring of mass concrete elements earlier than expected.
The 50% SCC mixture met specified flow, penetration, segregation resistance, visual stability index, strength, permeability, and freezing-and-thawing durability performance requirements.
Project credits: Pennsylvania Department of Transportation,
Owner: HDR Engineering, Project Engineer; Mackin Engineering, Engineer (culvert redesign); Golden Triangle
Construction,
Contractor: Golden Triangle Construction,
Concrete: and Essroc Italcementi Group, Slag Cement.
https://www.concrete.org/publications/concreteinternational.aspx