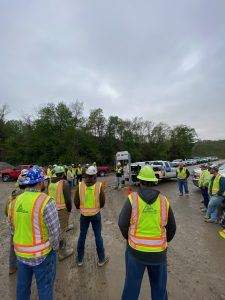 This program is offered to our Foreman and above who represent our projects working safely and highlight the high quality of work we perform. Each week a new picture will be featured on our social media pages, the safety section of our website, and here on the "news" page.
Week 7
Submitter: Wido Sagerer
Date of Photo: 05/04/2023
Project: 2203 – I-70 @ PA 51 Interchange Project
Location: 70/31 Batch Plant
Task: Weekly Safety Talk – OSHA National Stand-Down
As we do every year, Golden Triangle participated in this year's 10th annual OSHA National Stand-Down. Golden Triangle is committed to bring awareness of fall hazards to the construction industry and most importantly, to our GTC family. We at Golden Triangle want to give a special thanks to Tucker Burquest (3M) and Bob Wengryn (Miller) for coming out to our sites to refresh and further expand our knowledge on fall hazards, along with fall protection. We also want to thank the projects and all the GTC employees for participating in fall week. Thank you for the overall safety commitment you demonstrate daily on our projects!