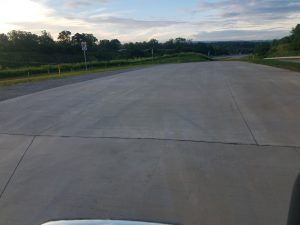 Project: US119: Coline-Crossover Road
Owner: Pennsylvania Department of Transportation
Value: $37 million
Scope: Roller Compacted Concrete was utilized to construct a commercial vehicle inspection area for the Pennsylvania State Police along SR 119 in Westmoreland County. The PSP requested a smooth surface from PennDOT to perform inspections on and Golden Triangle proposed using Roller Compacted Concrete in place of asphalt. An 8" thick lift of RCC was placed using a high-density paver followed by a 10 ton double drum roller. Final finish was achieved by using a double blade ride on power trowel operated directly behind the roller, followed by a light broom texturing. After completion, the PSP was provided a 3 lane, 1,800 SY inspection area that is sure to stand the test of time.