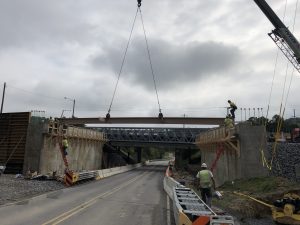 Owner: Pennsylvania Department of Transportation
Value: 14.6 Million
Completion: Spring 2021
Scope of Project: Replacement of deficient bridges on I-79 over North Boundary Road in Cranberry Township. The new structures will also increase the maximum clearance height of North Boundary Road. Prior to demolishing the existing bridges, a temporary bridge must be erected between the two existing bridges to maintain traffic on I-79. In addition to the bridges being replaced, pavements on either side of the bridges will be reconstructed/ resurfaced and widened, new drainage will be installed, and guiderail will be replaced. North Boundary Road under the bridges will also be resurfaced and the sidewalk will be replaced.