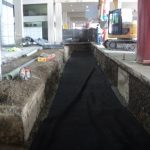 Owner: Allegheny County Airport Authority
Value: $725,000.00
Construction Dates: July, 2012 to October, 2012
Scope of Project: The Allegheny County Airport Officials along with the Transportation Security Administration (TSA) partnered to approve a plan to install security bollards in an effort to increase security at all of the ground floor entrances to the Landside Terminal Building. Sixteen security bollards were place in an engineered reinforced concrete foundation at eight building entrances. The top of the foundation was placed to match the finished surface of the adjacent sidewalk. Construction was performed in phases to minimize the impact to passengers at the baggage claim area of the airport terminal building.