Golden Triangle Construction has the ability to complete a variety of structural construction projects including foundations, piling, retaining walls, pre-cast construction, bridge piers and abutments, steel reinforcement, concrete repairs, bridge decks and parapets.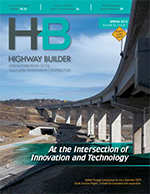 Click here to read about GTC's Innovation on the I-70/79 South Junction Project
Contact us
for more information.
View our latest Bridges/Structures Project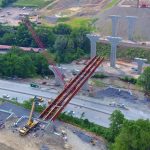 PA turnpike Southern Beltway – 55C1-1 Section
Posted on June 7, 2019
Steel girder erectionfor the 55C1-1 section of the PA turnpike Southern Beltway. The dual, 4-span structures consist of 72 individual steel sections which are field spliced to create the 1015' continuous composite bridges over SR 50 and Millers Run Road. Golden Triangle is the structures subcontractor for Beaver Excavating on this section.