Golden Triangle Construction has the ability to complete a variety of structural construction projects including foundations, piling, retaining walls, pre-cast construction, bridge piers and abutments, steel reinforcement, concrete repairs, bridge decks and parapets.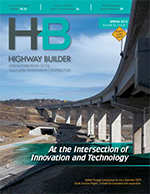 Click here to read about GTC's Innovation on the I-70/79 South Junction Project
Contact us for more information.
View our latest Bridges/Structures Project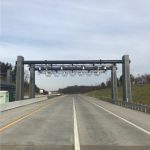 SR576 Section 54ABC Cashless Tolling
Posted on January 14, 2019
Owner: Pennsylvania Turnpike Commission
Value: 5.2 million
Completion: 2018
Scope of Project: The construction of the first cashless tolling system on the Pennsylvania Turnpike Commission roadway system. Project scope included the construction of a service building with architectural treatment, drilled caisson foundations, installation of precast concrete columns with architectural treatment and the installation of steel gantry structures. Work also included roadway reconstruction, drainage improvements, sign installation, precast white barrier and guide rail installation along with the application of pavement markings.